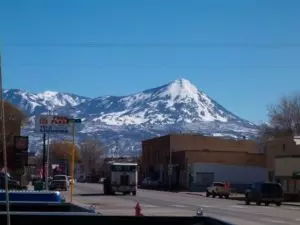 Hotchkiss
"The Friendliest Town Around"

The Town of Hotchkiss  is 5,351 feet in elevation. Upon the 'opening' of the area to Anglo settlement in 1881 the Town began to take shape. In May 1900, the Town was officially incorporated and named for Enos T. Hotchkiss, who had staked an early land claim on the site where the Town is now situated.
The Town of Hotchkiss is found in the heart of the North Fork Valley, a hub for all those winter and summer activities  that the wonderful Western Slope  of Colorado has to offer. Hotchkiss offers a place for folks to come and meet from all over the County, at Memorial Hall and the County Fairgrounds.  As every year  passes, the Town becomes more and more of a location where people travel to hunt, fish and take in the local atmosphere. Fresh fruits from our local orchards, tasty wines from our local vineyards  and fresh vegetables from our local farmers offers some of the most sought after flavors not found anywhere else other than the North Fork Valley.
Our small Town of a 1000 populace, has become the home of the Hotchkiss Sheep Camp Stock Dog Trials, the Delta County Fair, and some of the best Champion Fly Fishing on  the nearby Gunnison River. Hotchkiss is nestled in one of the most beautiful, breathtaking environments, having so much to offer for those looking for a getaway, getting back to nature, or just experiencing some of the most delicious tastes in Wine and Food.
Hotchkiss is a place you'll love to visit or live.